Canberra and Region Branch
Interested in joining AEVA?
To join AEVA, click here. Once you are a member you'll get regular email updates. Make sure you nominate the ACT as your home branch.

Crowdfunding for Braidwood charger
A crowdfunding campaign has been set up by AEVA member Mark Hemmingsen to install two charging points at the Royal Mail Hotel in Braidwood. This is not an AEVA endorsed project, but we are linking to it here for convenience.
Upcoming events

EV registrations in the ACT

As of 25 September 2023, the ACT has 5,613 registered electric vehicles.
This represents around 1.7% of the total number of light vehicles registered.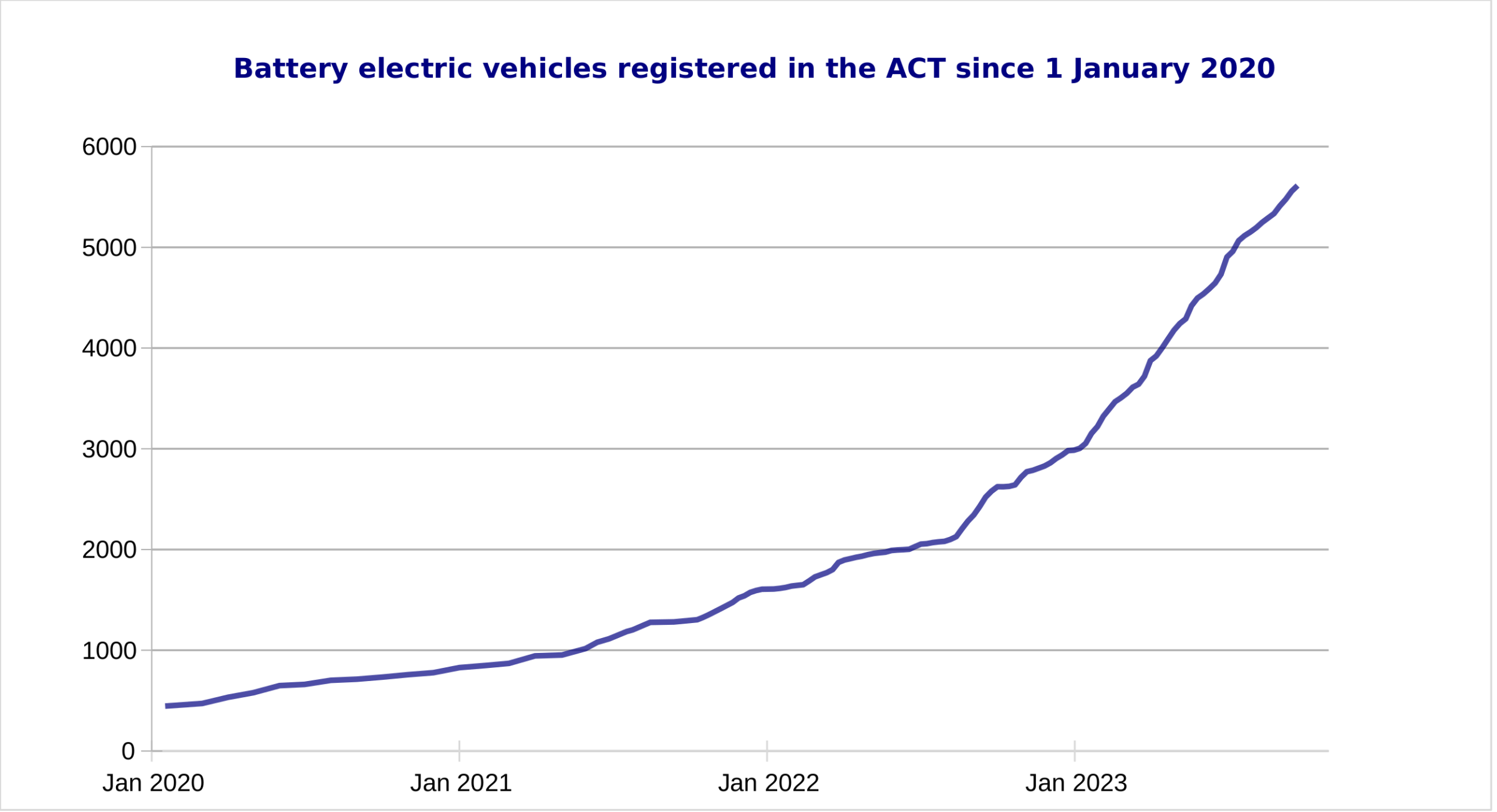 More detailed statistics on ACT vehicle registrations are available.
---
Recent events

A summary of previous activities of the ACT Branch, including photos of some events, may be found here.
Who we are
We are the ACT Branch of the Australian Electric Vehicle Association (AEVA). We are a volunteer-run, not-for-profit organisation dedicated to promoting electric vehicle technology (including cars, trucks, buses, bikes and scooters) in the ACT. Our members include early adopters and DIY enthusiasts who have converted petrol cars to EVs. Our key motivations include cutting emissions and decreasing Australia's dependence on imported fossil fuels. We celebrate the fact that EVs are cleaner, quieter, safer and more reliable.
We aim to promote the uptake of EVs in Canberra. We do this in a context of government support. The ACT Government has a set of policies supporting the transition to zero emission vehicles, and our Branch is working with the ACT Government to encourage this transition.
Our core project for 2021-22 was the "Zero Emissions, Go Electric" Project. This project was funded by a Community Zero Emissions Grant from the ACT Government. A final report on the Project, as presented to the ACT Government's Grants Officer, may be found here.
Our Branch Committee
Below is a photo of some members at our recent AGM. The elected office holders from the AGM are:
Chair: Ben Elliston (chair@act.aeva.asn.au)
Secretary: Darryl Bourke (secretary@act.aeva.asn.au)
Treasurer: Kate Armstrong (treasurer@act.aeva.asn.au)
Director: Jude Burger (representing ACT on the National Council)
General Committee members: Peter Campbell, Richard Czumak, Peter Lyons.
Anyone seeking contact details for other members of the Executive should request them from the Secretary.

---
Meetings
Our meetings are opportunities to share ideas among our members, to hear from guest speakers, to plan events, and to share information on technical matters.
Our next meeting will be held at 7pm on Monday 16 October 2023.
Our General Meetings are usually held on the third Monday of each month, at 7pm at the Harmonie German Club. In December or late November there is usually a social gathering such as a barbecue at a picnic site.
All members attending these meetings are asked to become members of the Harmonie German Club ($5 annual fee).
AEVA members can access the agendas and minutes of recent monthly ACT Branch meetings. You will need to sign on and to have the status of a financial member in order to view these documents.
Click here to access agendas and minutes
---
Forum and Facebook pages
The main place tor AEVA discussions is the AEVA Forums website where many topics are discussed among AEVA members all over Australia.
Another popular destination is the Canberra EV Facebook page. "Canberra EV" was the name of the group prior to affiliating with AEVA There is also a private AEVA ACT Facebook page here, for the exchange of information that is relevant only to AEVA members.
---
Influencing government policies
The ACT Branch advocates for EV-friendly policies in the ACT and, as a very active branch, contributes to AEVA advocacy at the national level.
2023
In May 2023, the ACT Branch made a significant contribution to the development of AEVA's national submission on fuel efficiency standards to the Department of Infrastructure, Transport, Regional Development, Communications and the Arts.
Also in May 2023, the Branch issued its recommendations for public EV charging infrastructure in the ACT. This document replaced earlier versions issued in 2021 and 2022, and included recommendations to support the needs of drivers with disabilities.
2022
The Branch lodged this submission to an Inquiry into EV uptake by a committee of the ACT Legislative Assembly.
The Branch also made a a strong contribution to the AEVA National submission on the National EV Strategy.
Work from previous years has been archived.
---
Information resources developed by AEVA ACT
Facts about electric motorbikes (2022)
Retrofitting electric vehicle charging in strata properties (2021)
Financial incentives for the purchase of Zero Emission Vehicles in the ACT (2021)
Recommendations on EV charging facilities in new strata developments (2019)
Submission by AEVA ACT to the Senate Inquiry into Electric Vehicles (2018)
---
Articles
Articles written by AEVA ACT members may be found here.
---
Contact
For more information on the ACT Branch please e-mail secretary@act.aeva.asn.au.