Domino's Drive Australia's Most Sustainable Food Delivery
Brisbane, Qld: Domino's Pizza Enterprises Ltd (Domino's) has today
announced a new partnership with Benzina Zero after completing successful trials of the Benzina Zero Duo electric moped within a number of stores. The partnership will further enhance Domino's goal to be the most dominant, sustainable food delivery business delivering from its 900+ stores around Australia and New Zealand.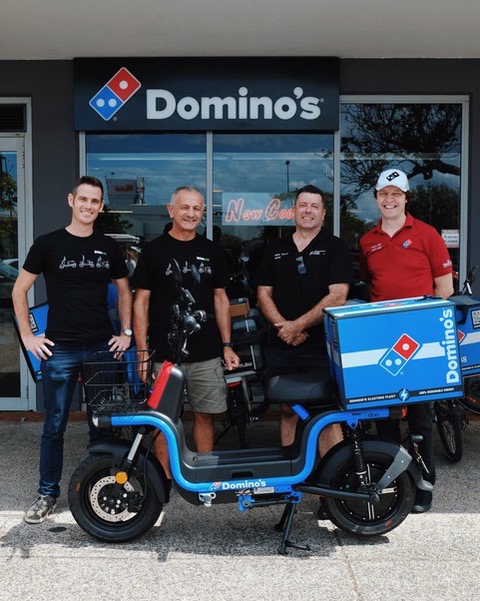 "By utilising the Benzina Zero's Duo electric moped we are not only able to deliver our pizza more sustainably, but we are also able to provide additional efficiencies and cost reductions to our franchisees", says Earle Strong, Head of New Equipment from Construction, Supply & Service, Domino's supply company.
"We started this journey sourcing the right electric delivery moped around three years ago with many not fit for purpose and it has taken a long time to find the right solution. We now have that solution, and we are excited to work closely with Benzina Zero on the delivery of the electric Duo moped within our network".
"We are thrilled to be able to work with Domino's, a leading global brand and the largest food delivery business within Australia, by assisting them to achieve their goals for last mile sustainability", says Joe D'Ercole, Chief Battery Charger at Benzina Zero Australia.
"As the challenges for last mile delivery are universal, we look forward to supporting Domino's both here and internationally where possible. Additionally, for each electric moped delivered in Australia and around the world, our partnership will contribute to the Benzina Zero 1m2 Project, a land regeneration program in Australia to facilitate additional environmental support."
The benefits of this new partnership include:
• Providing the latest Zero Emission Last Mile Delivery vehicles to stores across Australia and New Zealand
• Higher delivery efficiency and costs savings for franchise network
• Contribution to the 1m2 Project Land Regeneration in Australia

About Domino's Pizza Enterprises Ltd:
With more than seven pizzas sold every second and 3,800 stores in 13 markets (Australia, New Zealand, Belgium, France, The Netherlands, Japan, Germany, Luxembourg, Denmark, Taiwan, Singapore, Malaysia and Cambodia) Domino's Pizza Enterprises Limited (ASX: DMP) is all about delivering the world's most delicious and versatile bonding food. Our pizza brings people closer. For more information, please visit www.dominos.com.au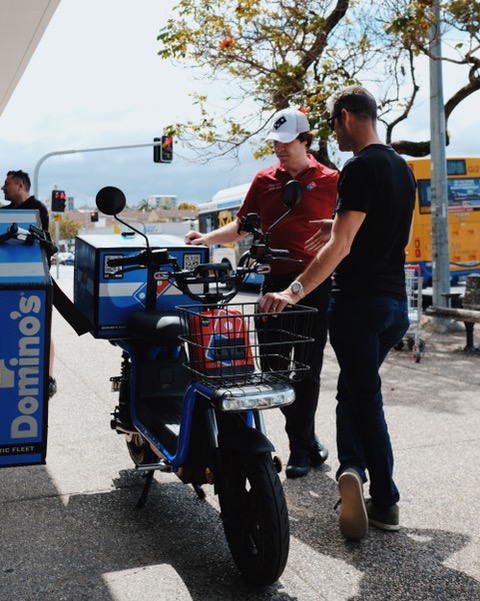 About Benzina Zero: Benzina Zero (translates to Zero Petrol in Italian) is a Brisbane based manufacturer and distributor of quality electric mopeds and motor scooters. Born from a deep passion for mopeds and scooters and decades of experience within the automotive industry, Benzina Zero are the leaders in their field enabling the sustainable movement of people and goods. Benzina Zero work with a large number of fleet businesses from food delivery, parcel delivery to eco-tourism and boast a comprehensive dealer network Australia-wide. Benzina Zero have appointed distributors in Italy, Hong Kong, Singapore, and the United Kingdom with 20 other countries in
discussions.

About 1m2 Project: The 1m2 Project is an Australian based land regeneration program for each and every scooter sold by Benzina Zero in Australia or around the world. The project has a single purpose: To take degraded land in Australia and create rich and biodiverse habitat for native flora and fauna to thrive and provide a stable environment for future generations to enjoy.