https://aeva.asn.au/victorian-past-event-reports/
Victorian Past Event Reports
2023
July - Schneider Electric
On 12 July Helder Paulini from Schneider Electric presented to a very engaged audience at EI.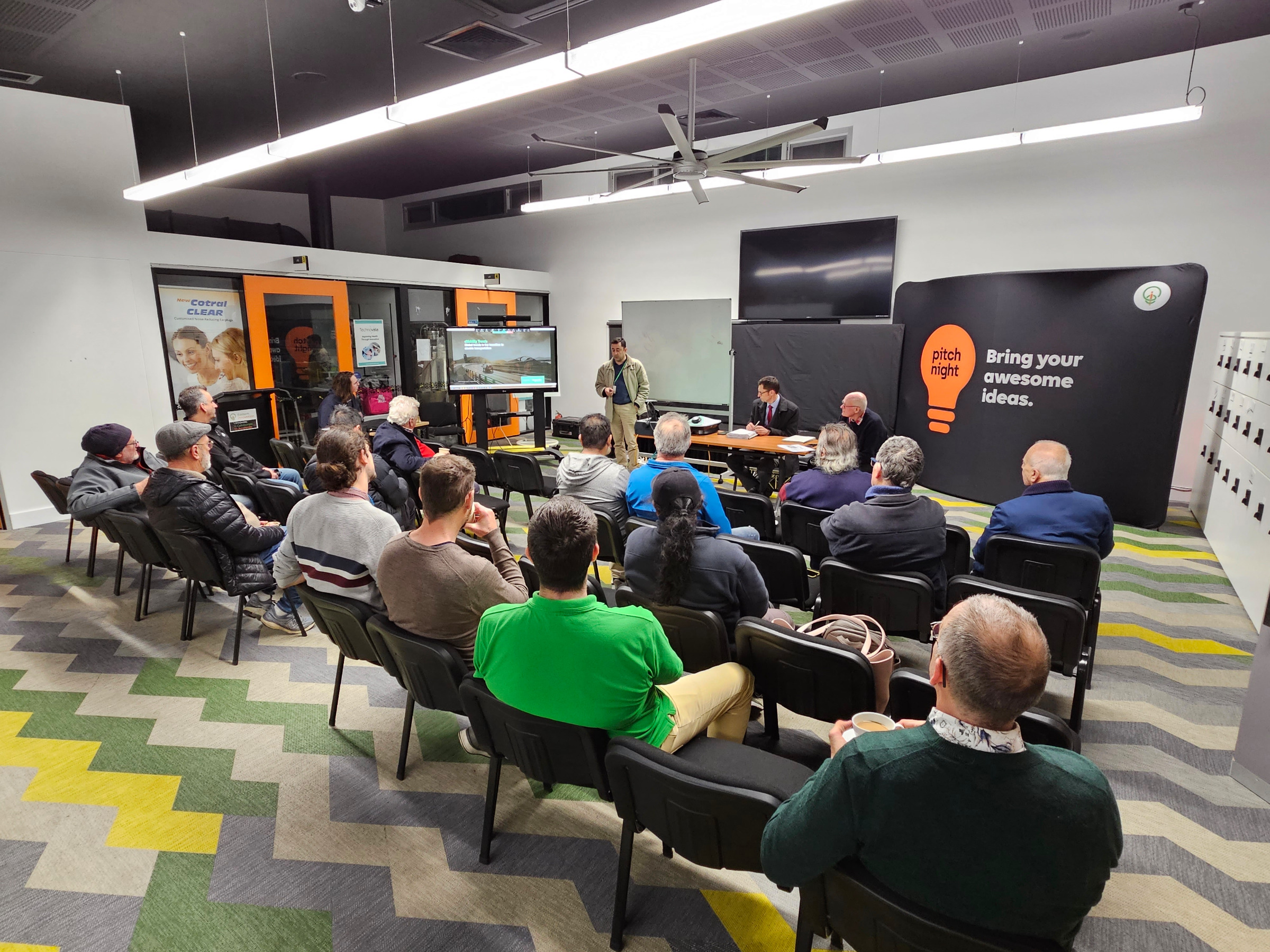 Helder outlined changes to the National Construction Code NCC2022 regarding allowance for the installation of EV chargers in residential and commercial buildings. The topic of managing EV load was explored, charger installation recommendations were discussed, and Schneider Electric Emobility chargers were on hand to inspect.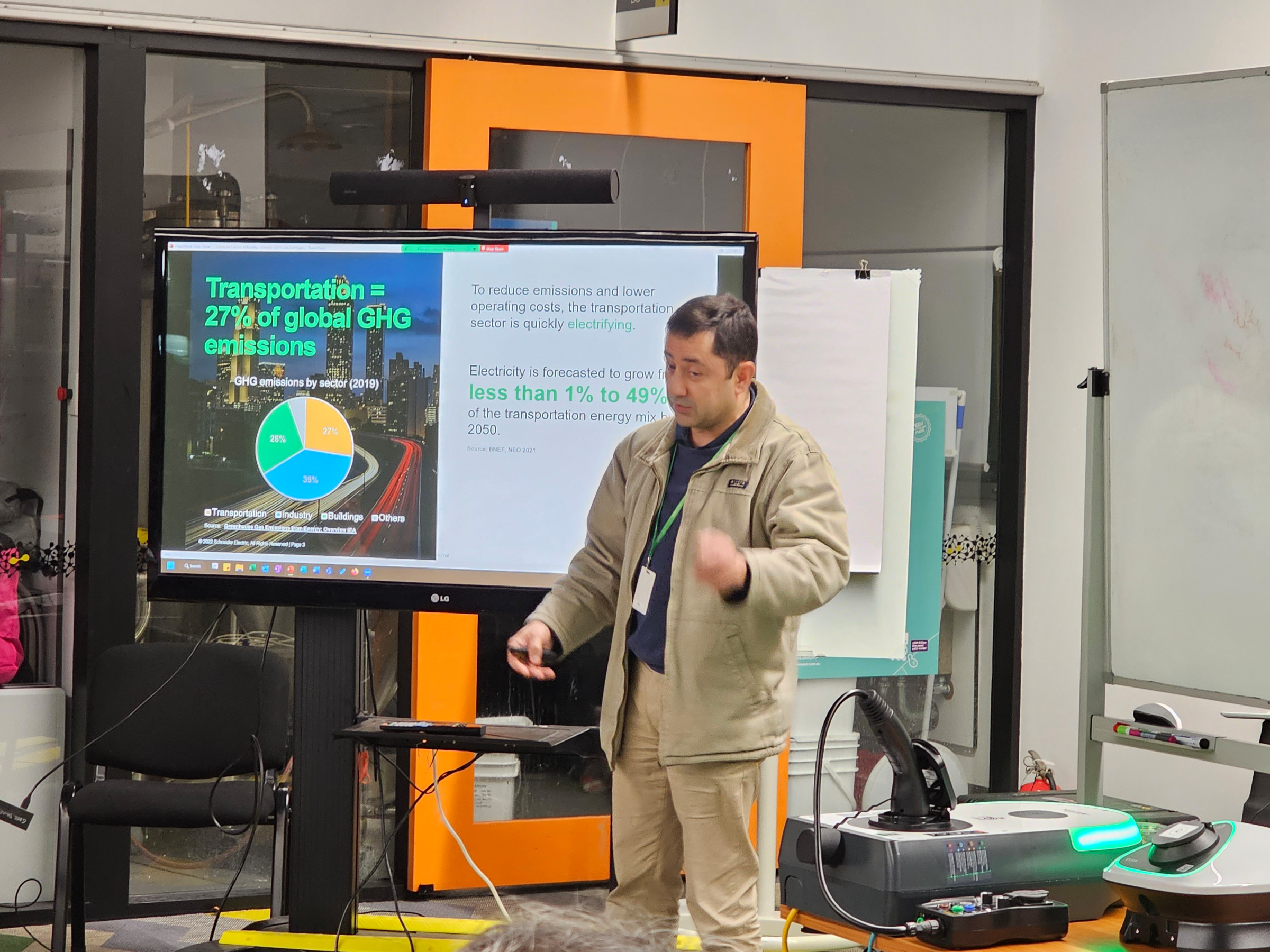 Helder's recorded presentation: https://www.youtube.com/watch?v=IAW5yKVjpuM&list=PLk4sOBOsCjD1bLvtg9Q3eL2nk6WIFzX9f
---
June - Sportscover
On 14 June Brian Drummond presented to a full house in the Sportscover boardroom in Mulgrave.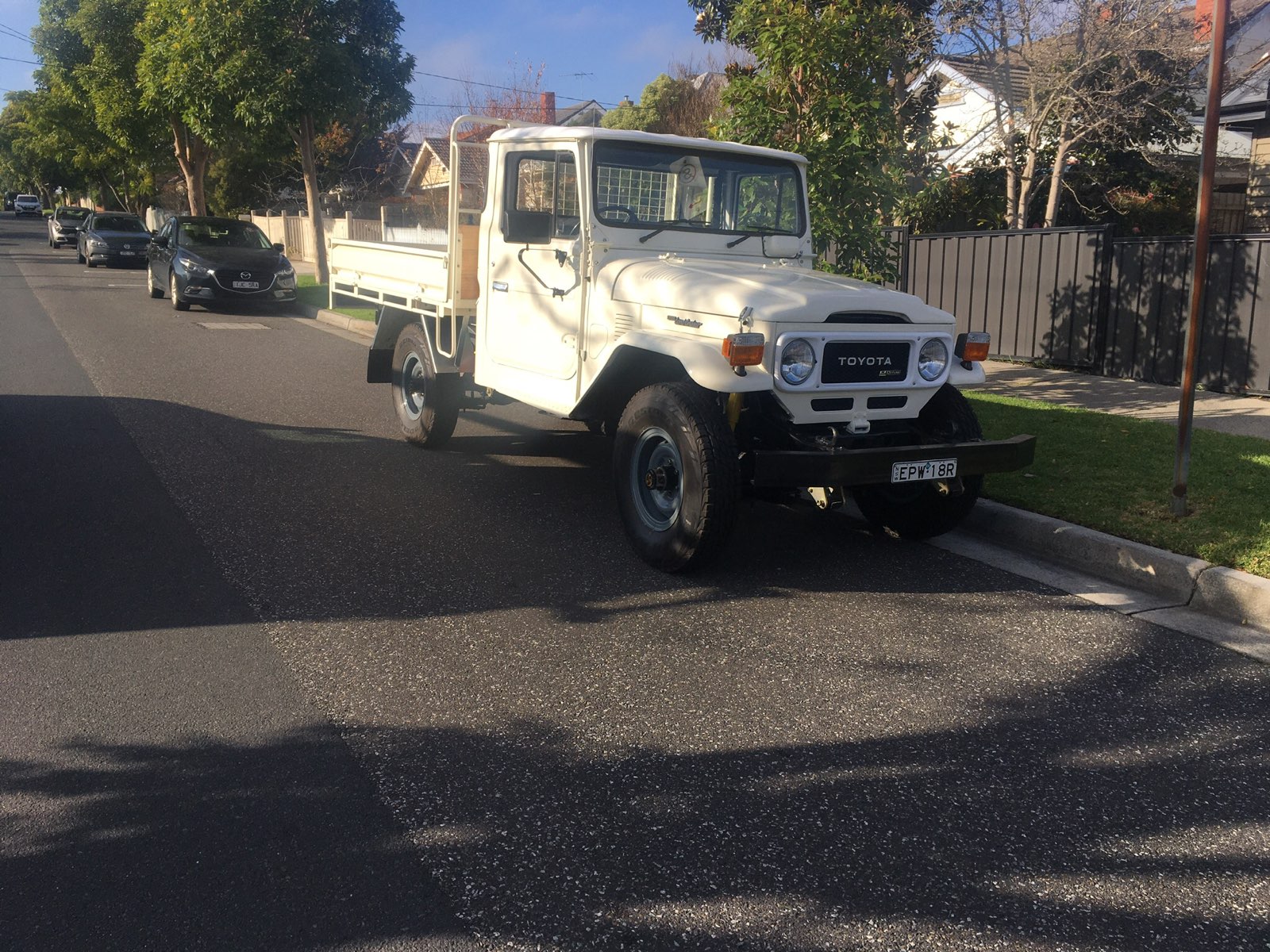 AEVA members and friends enjoyed learning about the restoration and conversion of a 1970s Toyota LandCruiser from diesel to electric. The vehicle was on display and very well received. Brian and his conversion team did a great job sharing technical details and answering questions from the audience. Many thanks to Brian and team for an impressive and engaging presentation!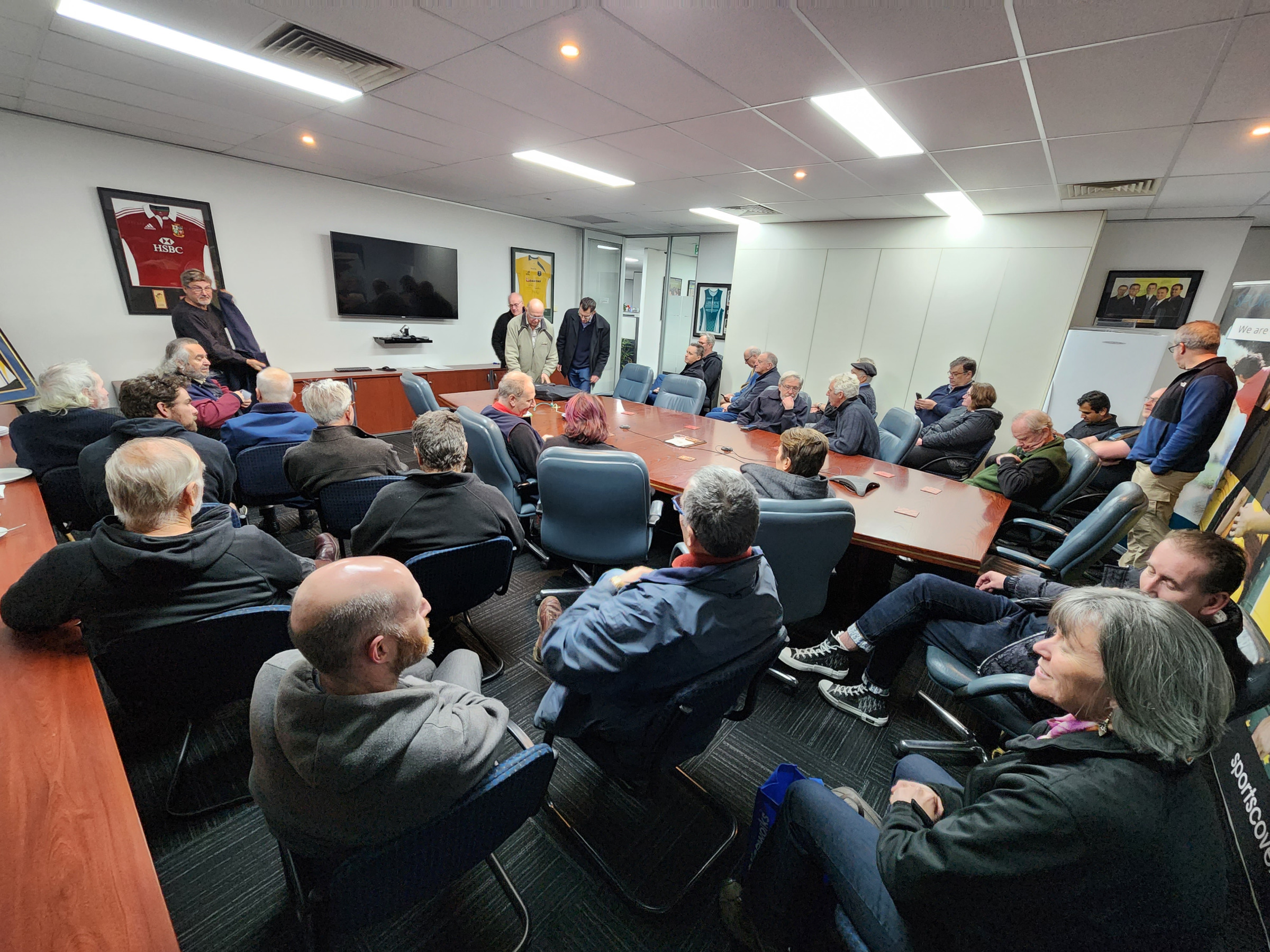 Vic Branch AEVA presented Chris Nash with a small gift of appreciation after he announced his intention to step down as Chair at our AGM on 9th August. Chris has been Chair since 2019 and was also AEVA National President for 3 years. Chris has put in many hours for AEVA and was involved in multiple initiatives including the 2020 EV Vision Conference and AEVA's governance transition from Incorporated to CLG. Chris held the fort during very challenging periods of hard COVID lockdowns in Melbourne which were not experienced in the same way by other regions. Chris remains a key member of GEVA (Global Electric Vehicle Alliance). We wish to formally and sincerely thank Chris for his service and hard work and look forward to future collaborations in whatever form that may be.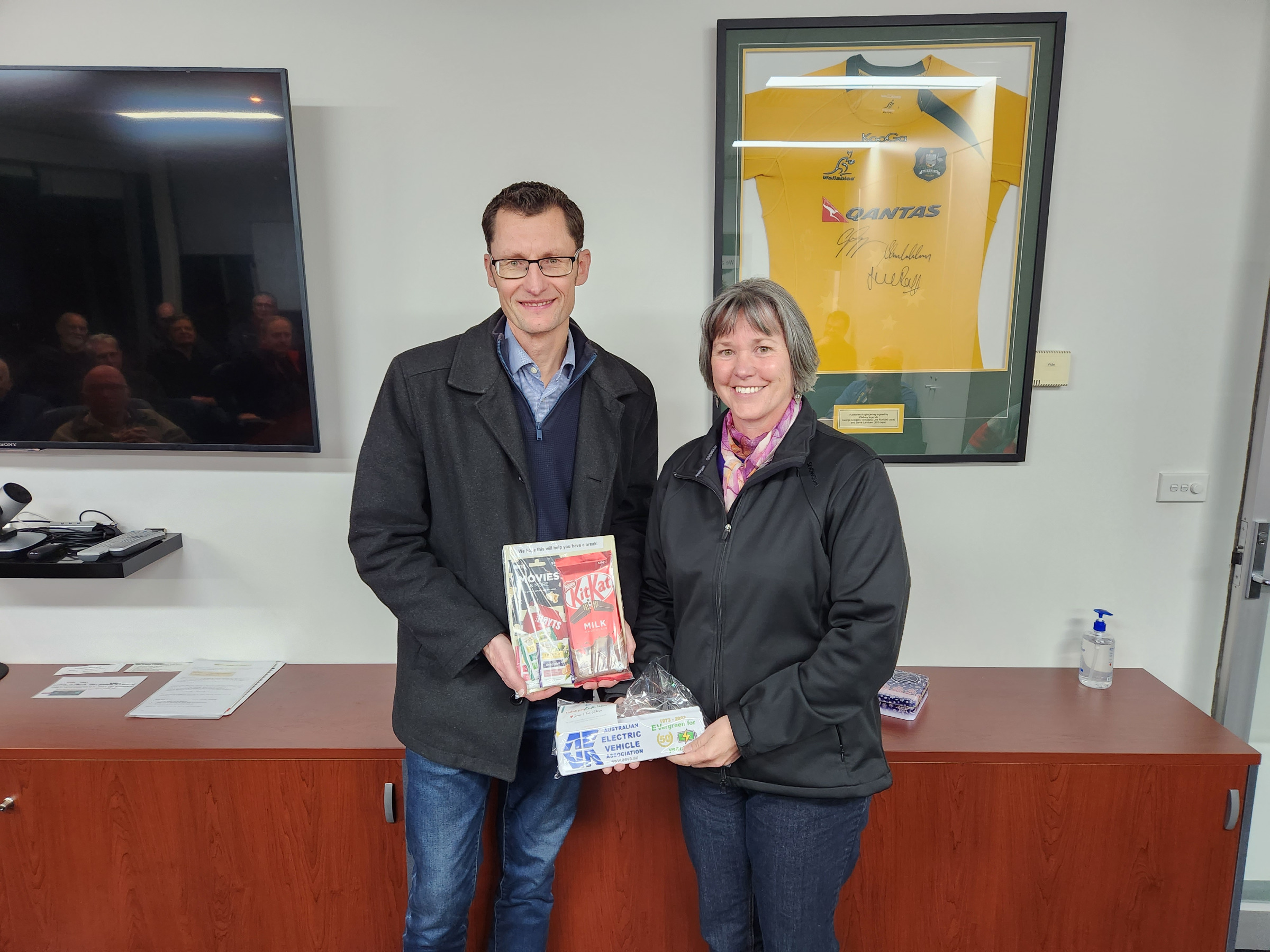 Vic Branch also launched their commemorative limited-edition bumper stickers celebrating 50 years of AEVA. Those in attendance received the historically significant memento and were treated to some short reflections from David Sharpe who was at the very first AEVA meeting in 1973! David recalled he was a student at the time, and that first meeting involved free alcohol. He admitted his memories of the event 50 years ago are a little hazy! Thanks go to David for his contributions. And happy 50th birthday to AEVA.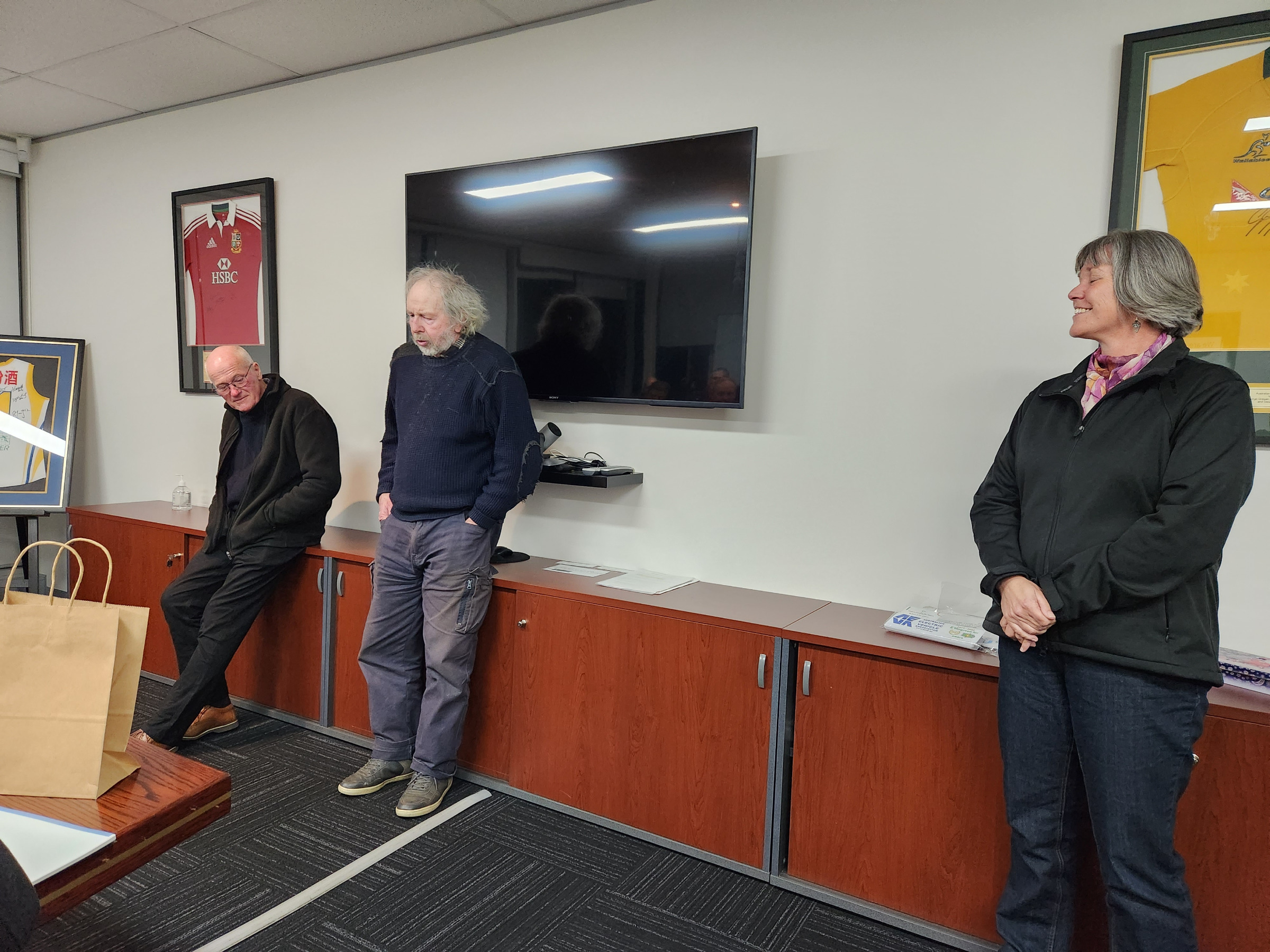 ---
May - The Glen
A short gathering at The Glen to view the new DC chargers. Riz Akhtar spoke about the new Kempower technology involved and the significance of Vicinity Shopping centres planning to install up to 30 similar chargers.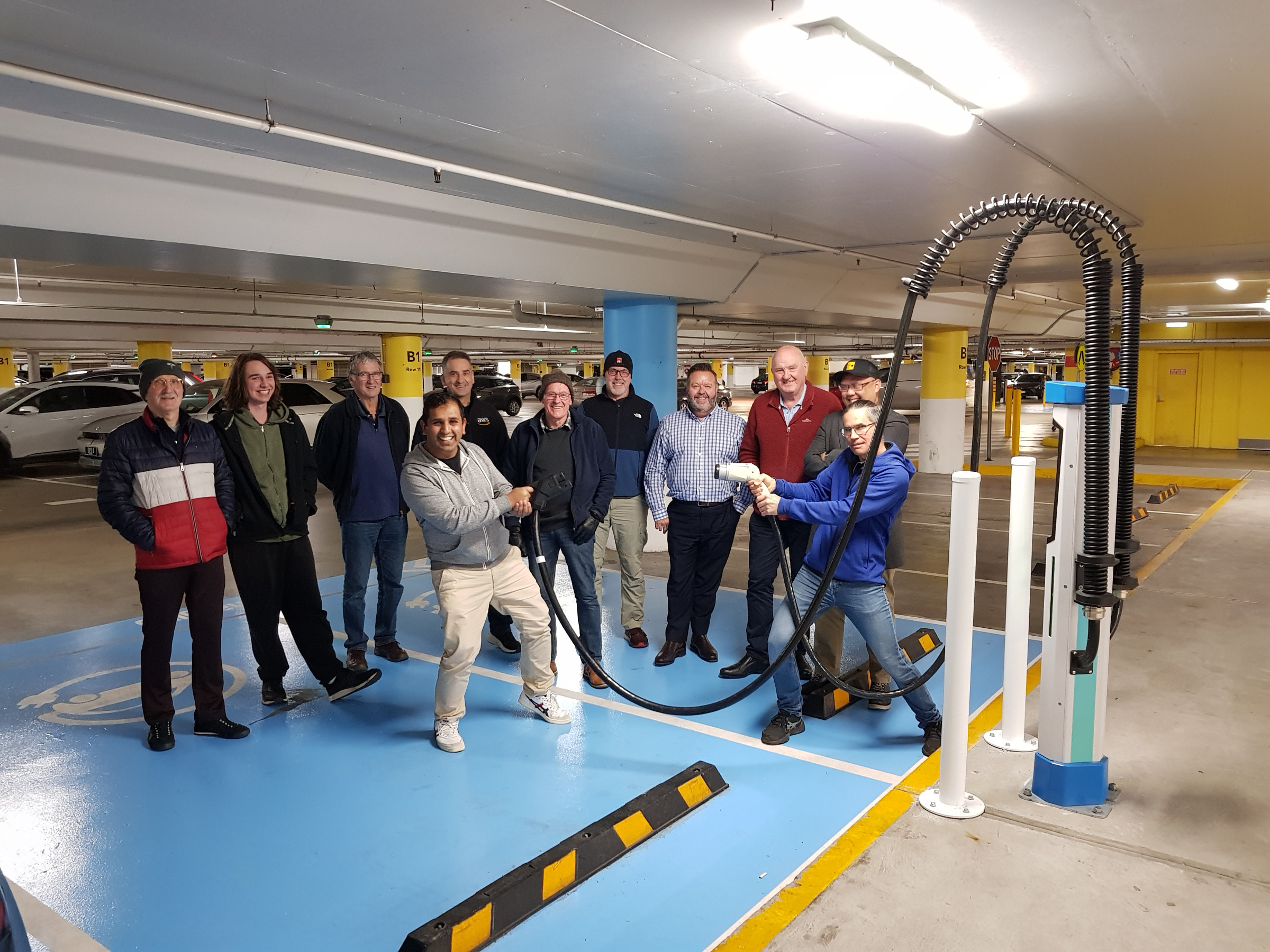 ---
April - visit to EOzzie, Altona
A group of AEVA members enjoyed seeing and hearing about a range of light electric vehicles. Owner and Vic Branch committee member Aldo showed us around and shared his knowledge. We toured the workshop and were informed about common problems with repairing light EVs. Aldo explained his progress in developing pilot scooter mechanic courses. Many thanks to Aldo for hosting a great event.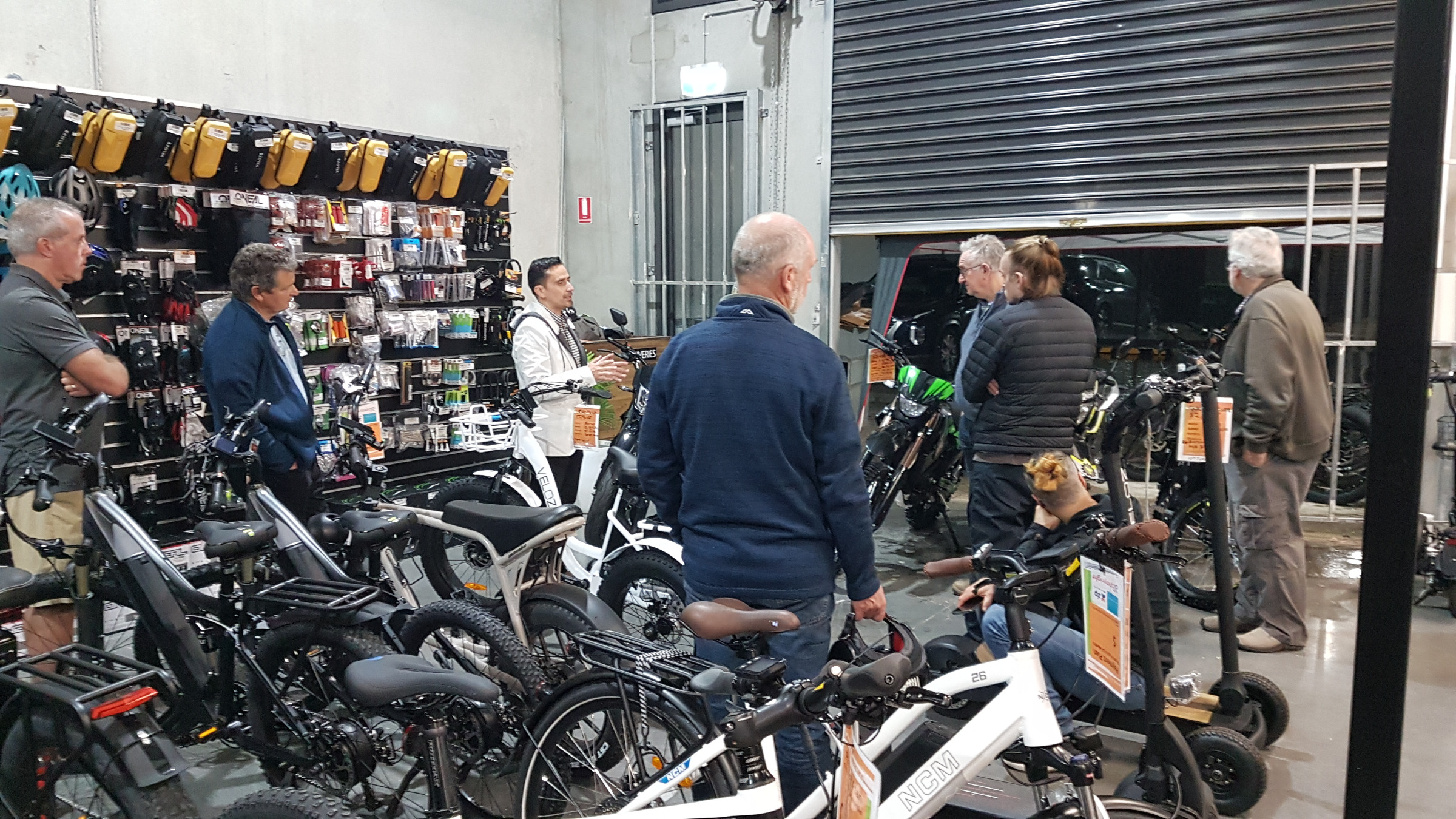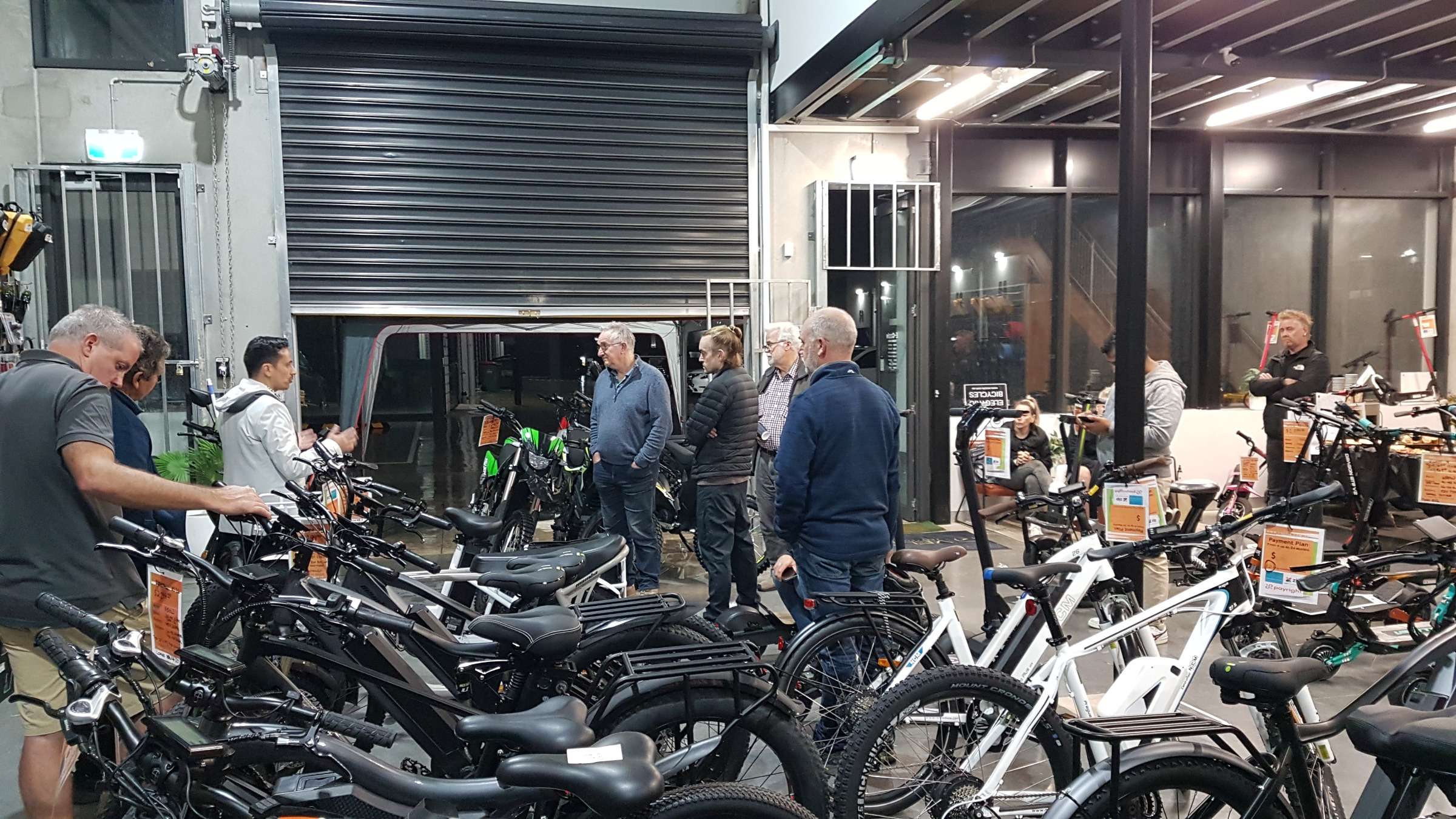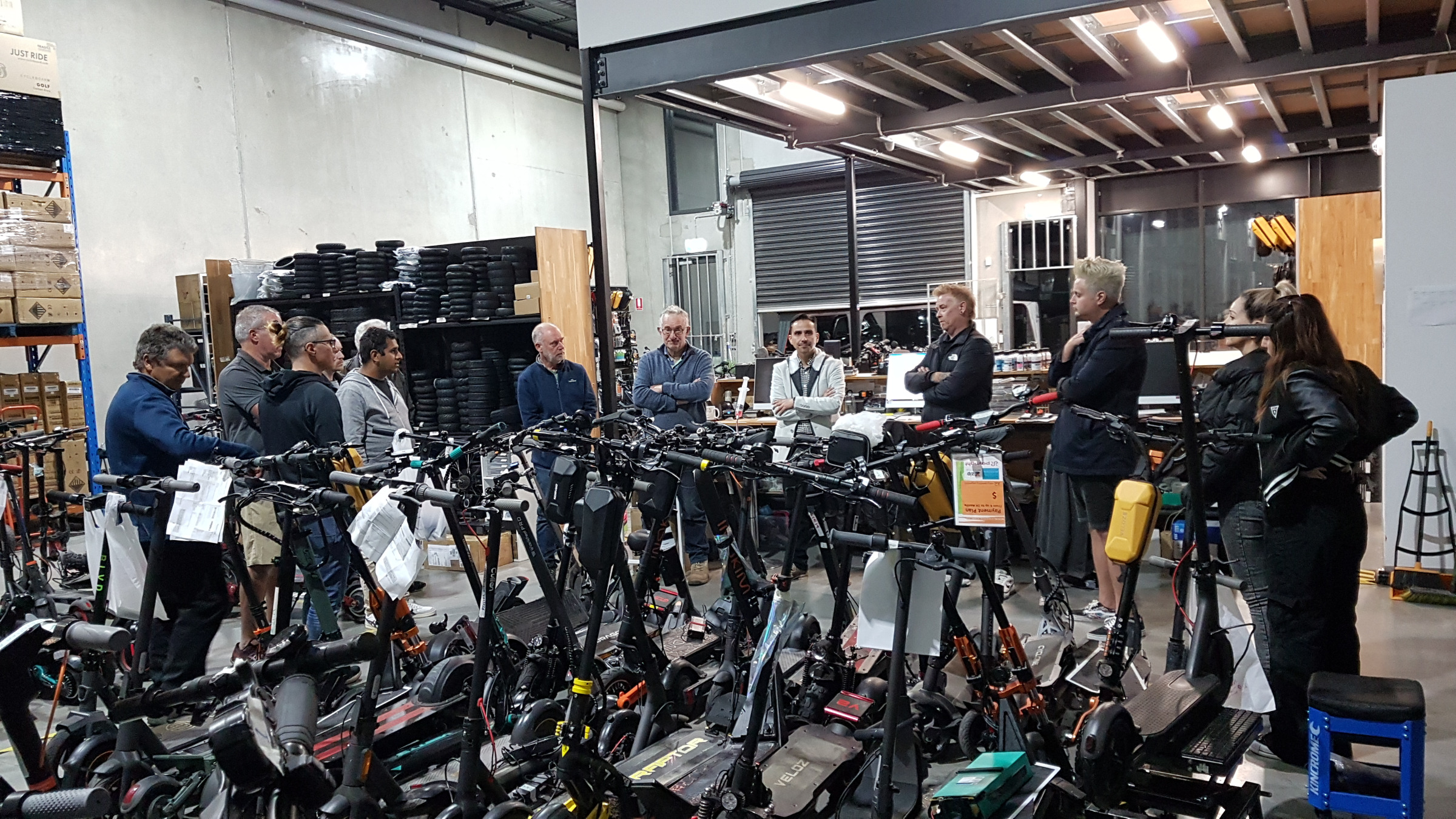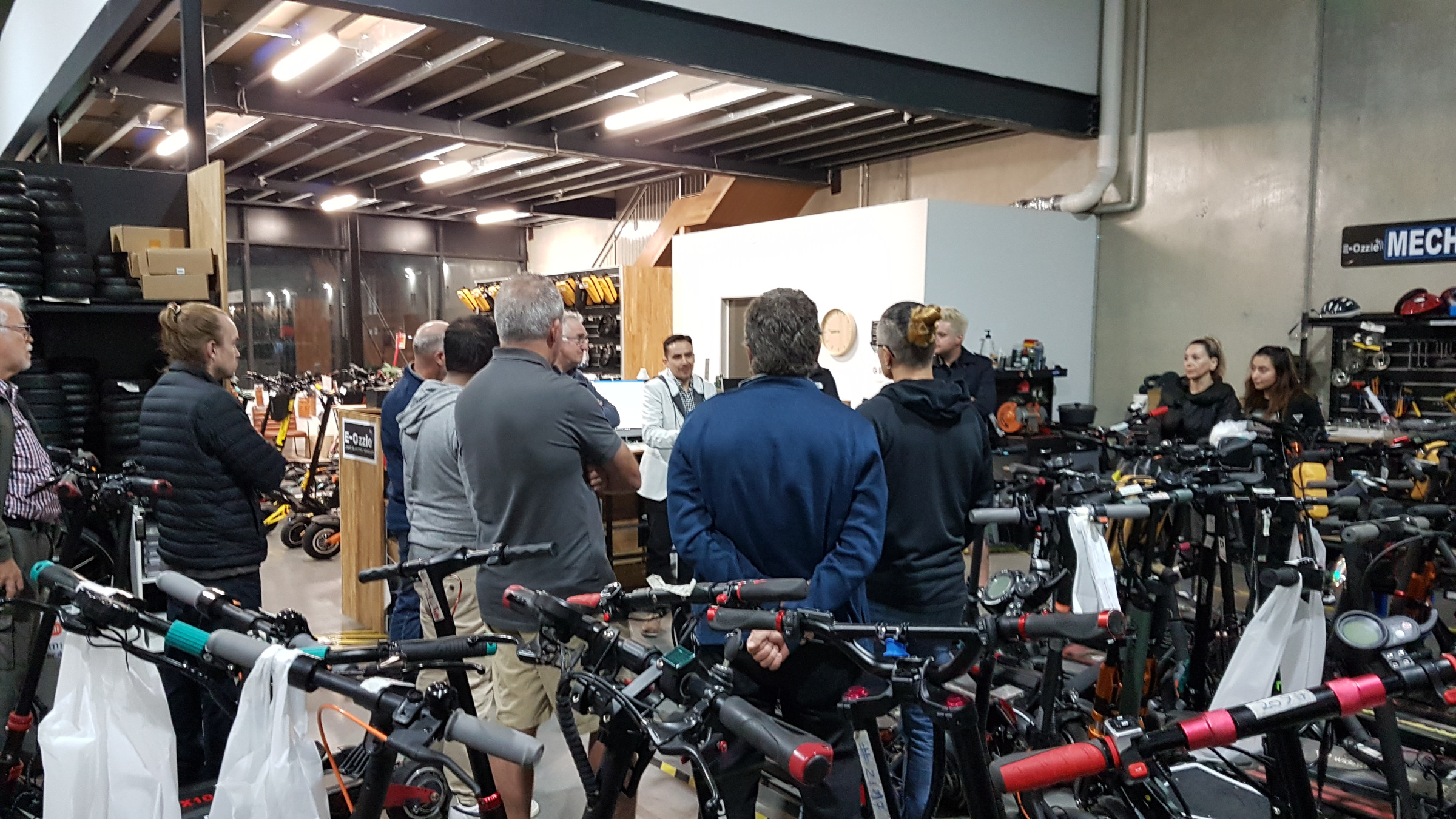 ---
April - Eldorado Off Grid Living Festival
AEVA attended the Eldorado Off Grid Living Fesival again over the 15-16 April Weekend. Thank you to those who helped out.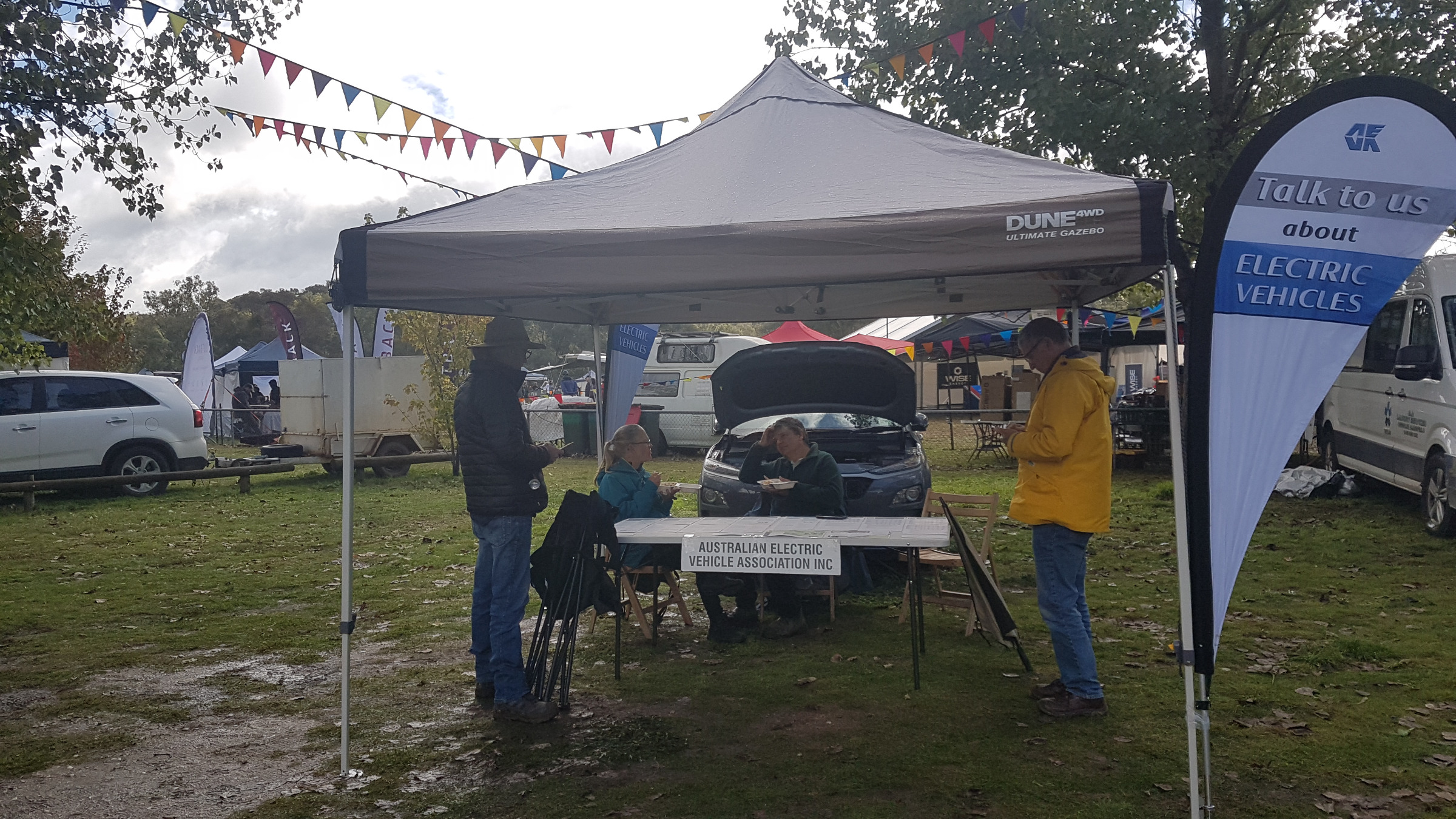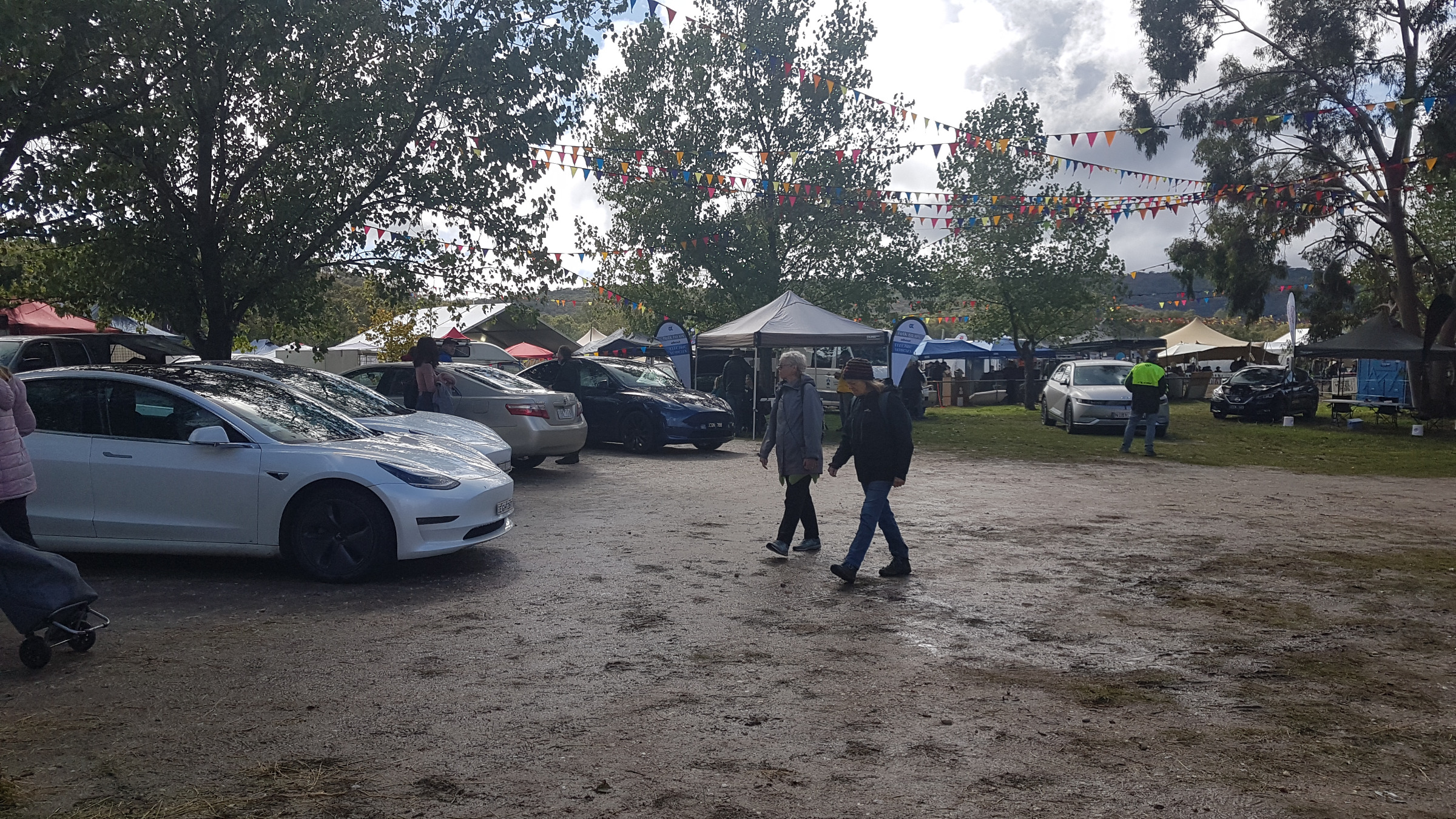 ---
March - Presentation by Dunstan Power (Versinetic)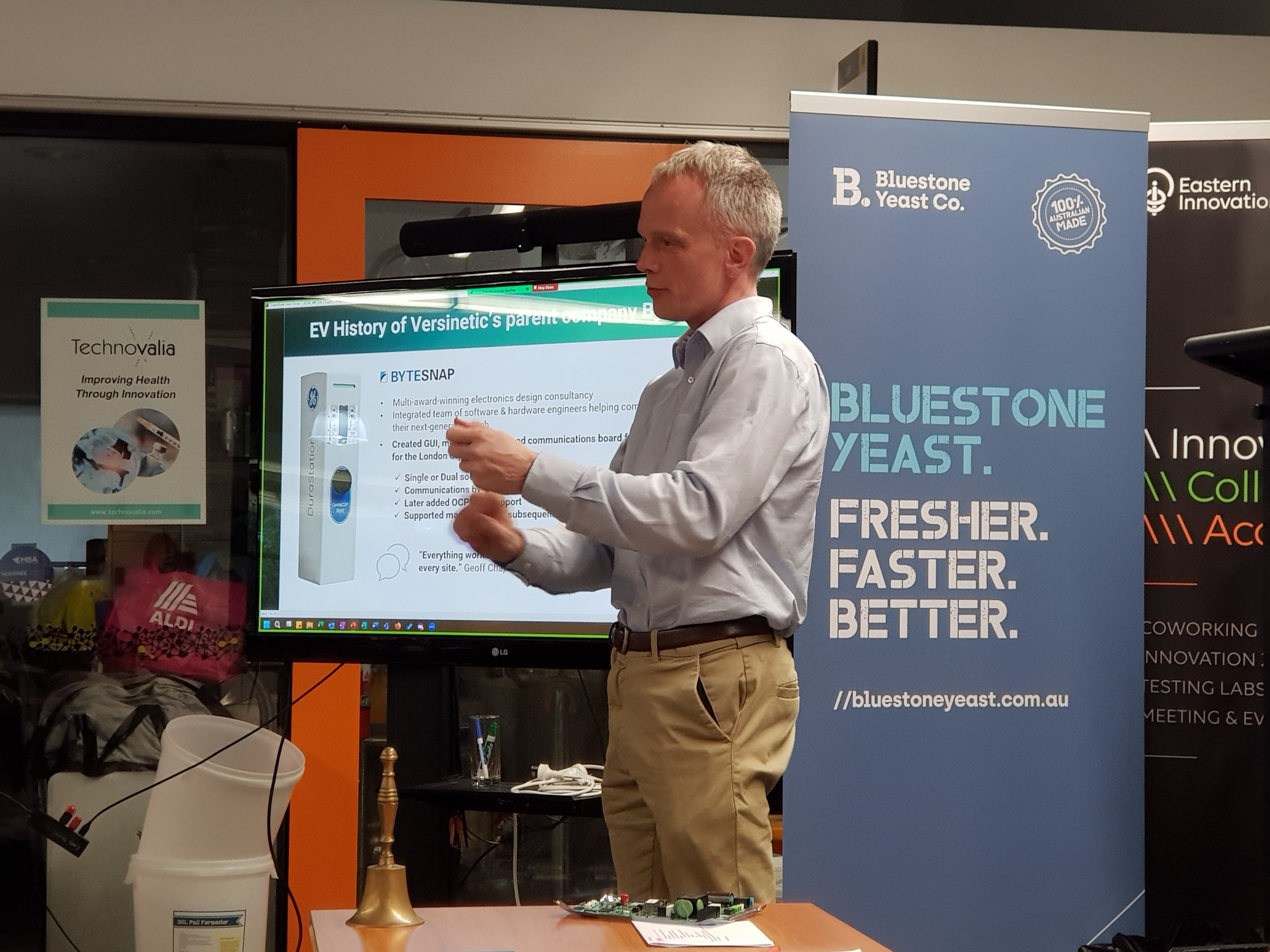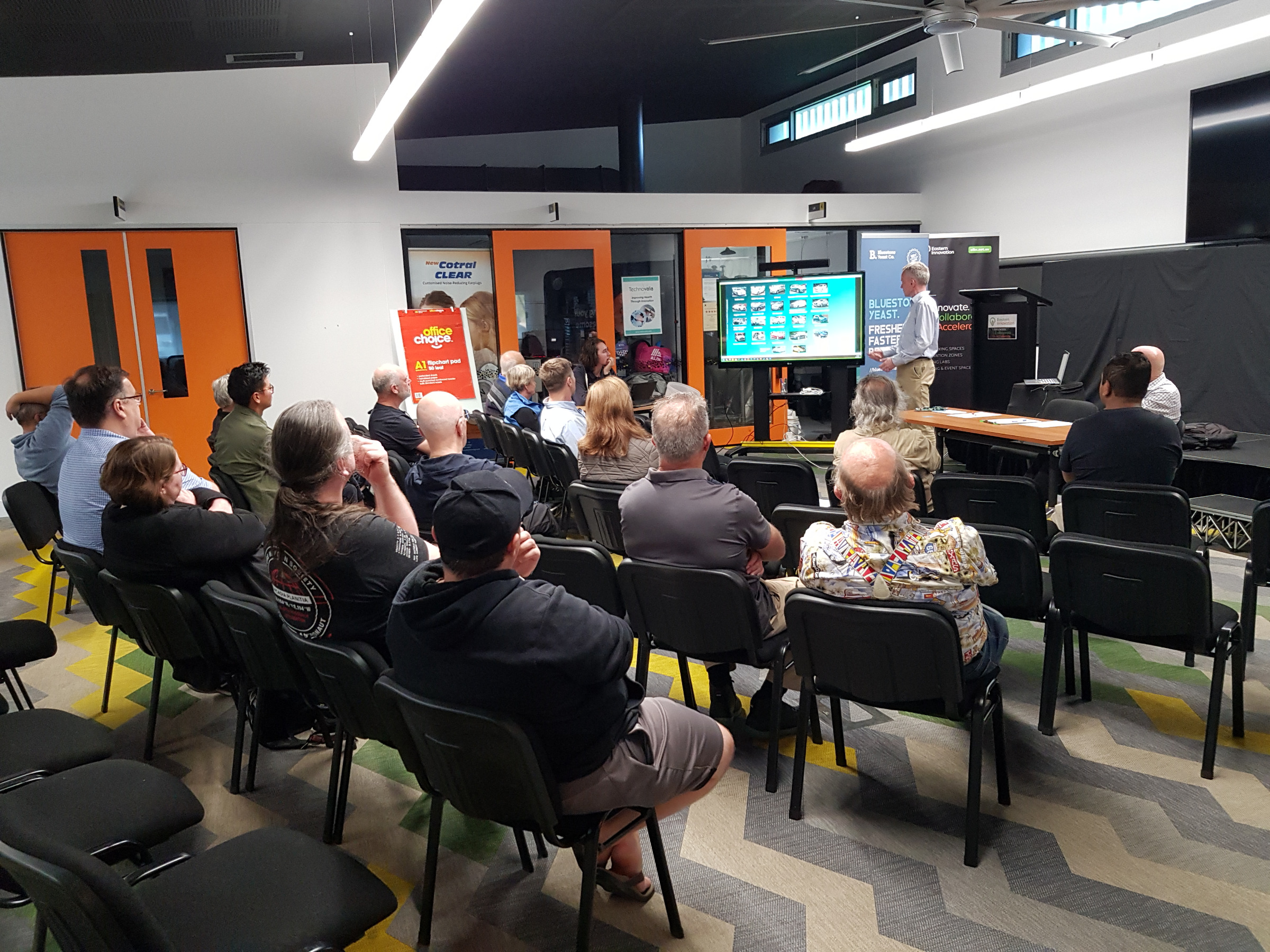 ---
February - Show and Shine at EI and tour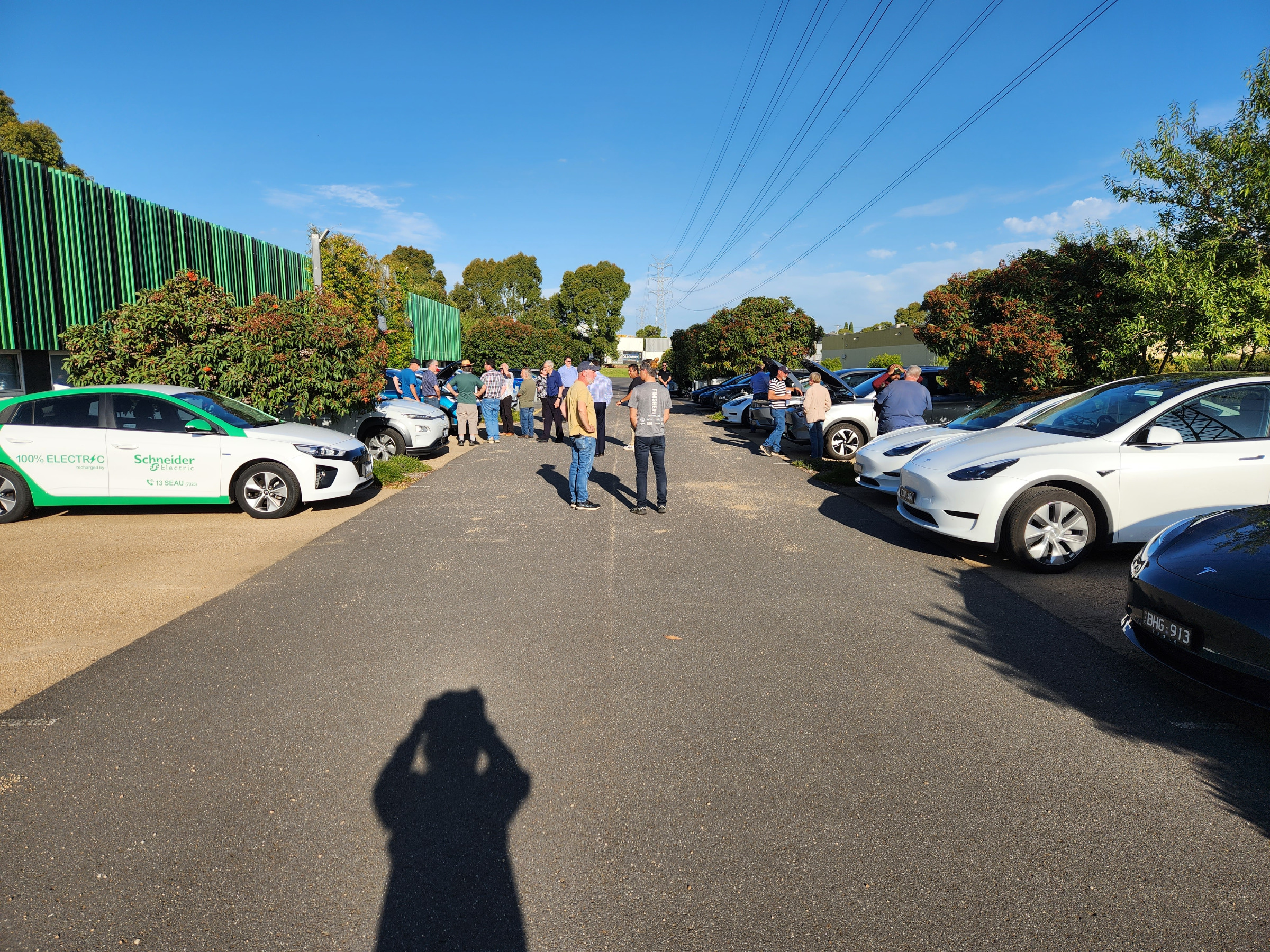 ---
2022
November - Baw Baw Sustainability Network Presentation
Members from the Vic Branch attended BBSN's EV expo. Victorian Secretary Rick Molloy presented to a full house at Yarragon Uniting Church with his EV for beginners presentation. Members Kathy and Brendan Davies, as well as Ashley Hill attended to exhibit their vehicles.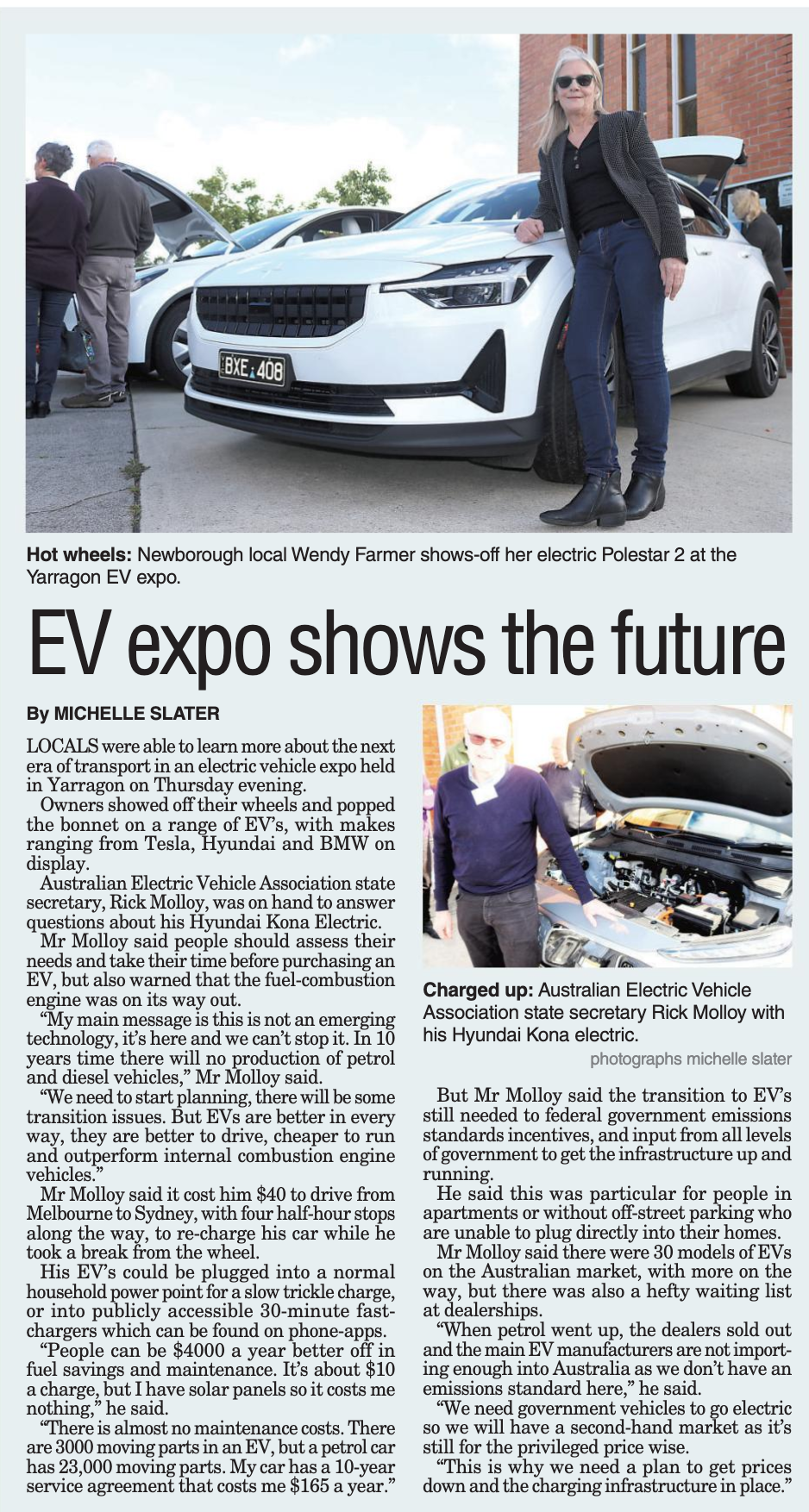 Article from Latrobe Valley Express: https://latrobevalleyexpress.com.au/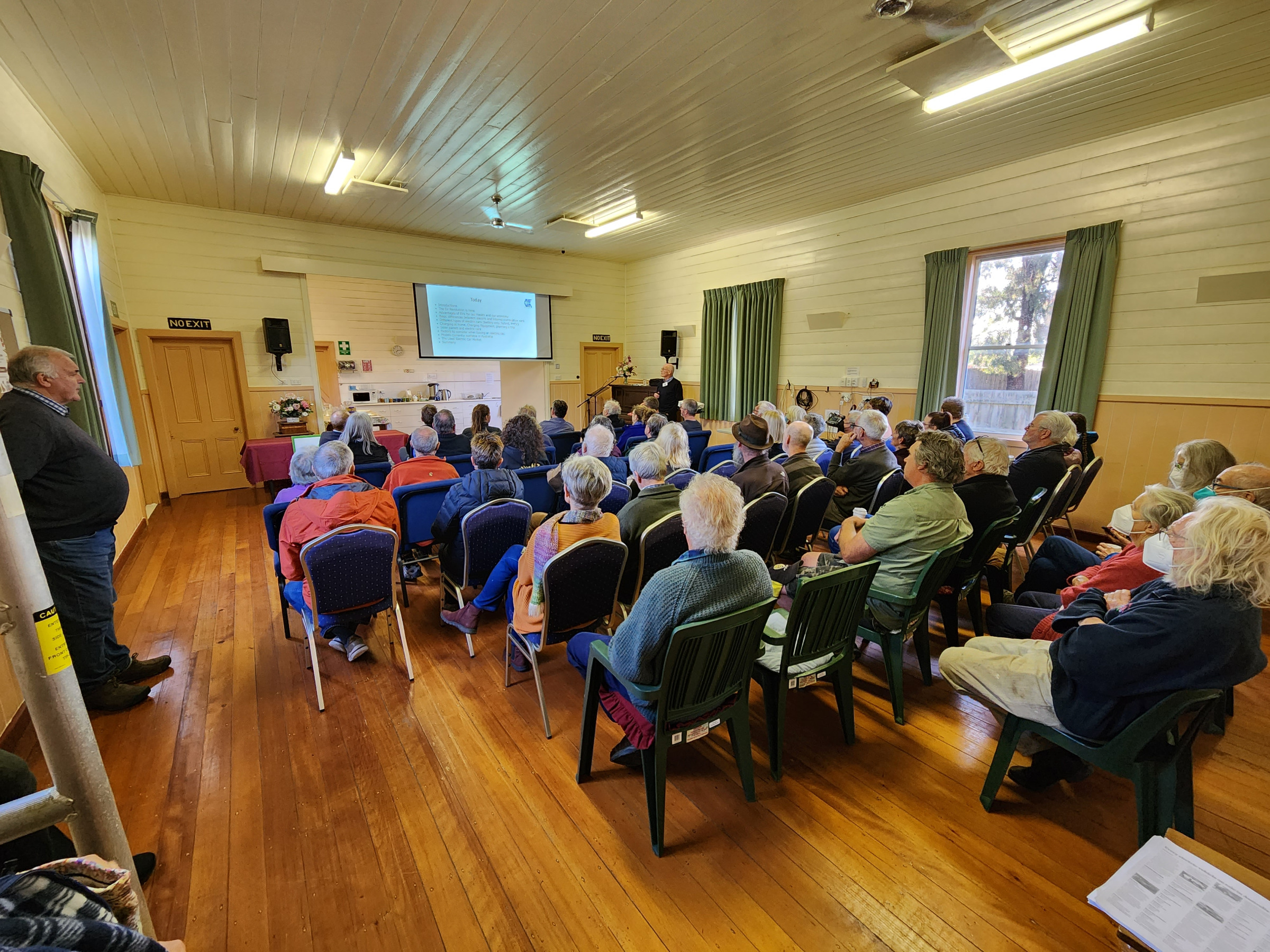 Rick Molloy presenting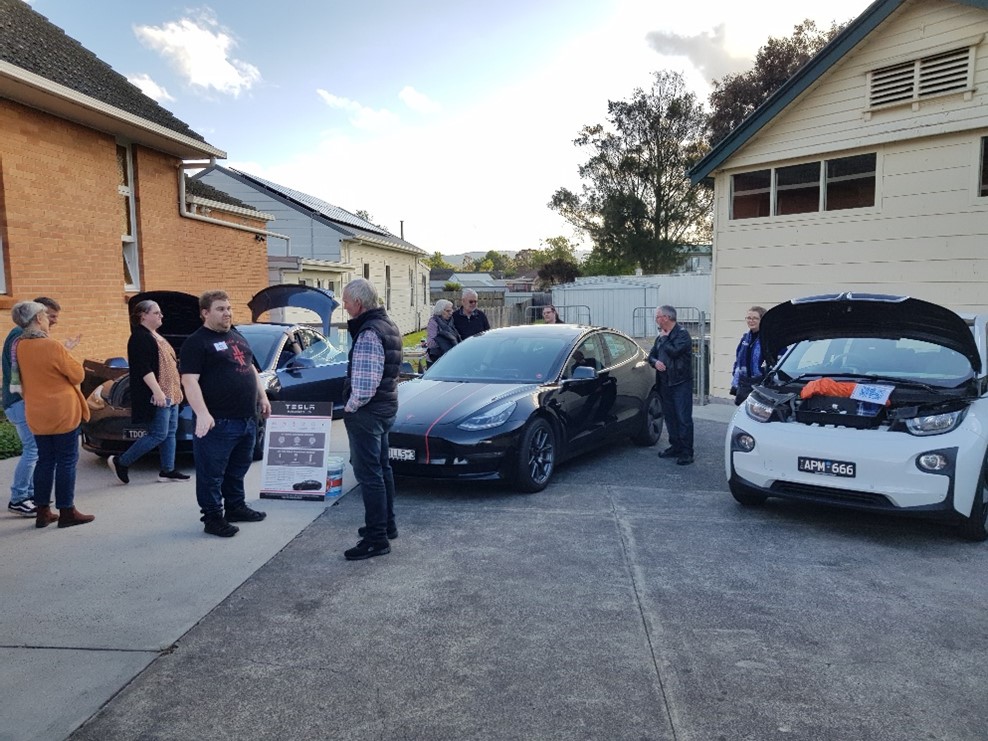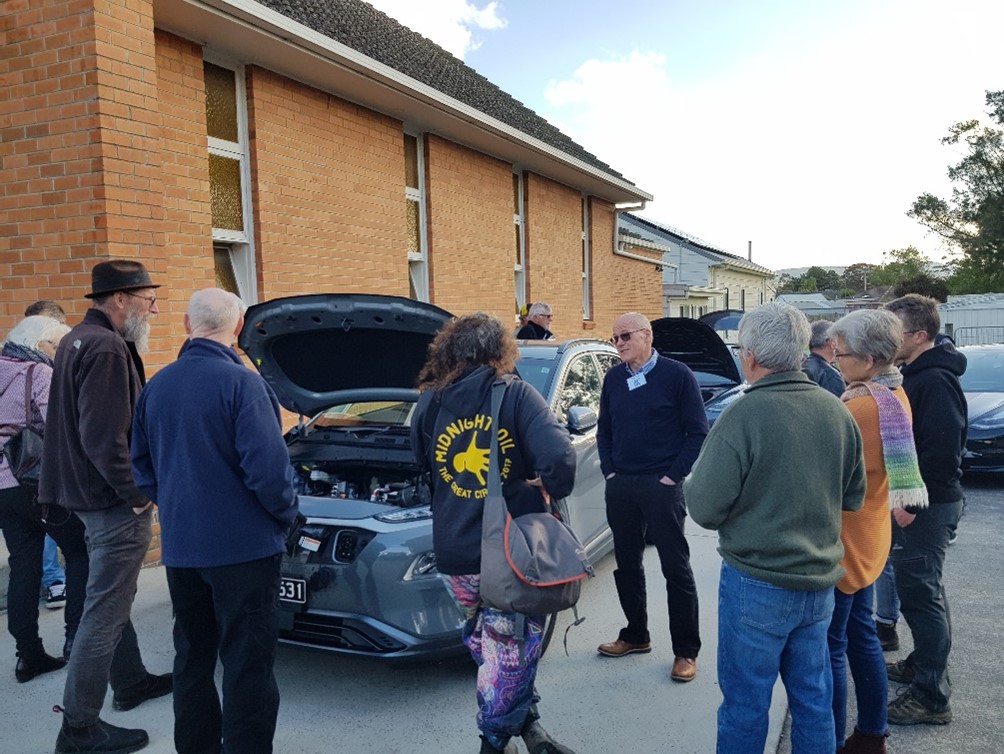 EVs on display
---
Survey of Members - August 2022



When asked to rate the importance of Vic Branch activities on a scale of 1-5 (5 is high, 1 is low)
The weighted average score for each activity was:
Member events 4.0
Grass roots activities 4.2
Education 4.2
Advocacy 4.6
Full results here
---
August Supported Event Report
Yackandadah Community Charger Launch 2pm Sunday 28th August.
Yackandadah community groups have combined to install a 50kW fast charger in the town's public carpark. It will be accessed via the Chargefox platform but owned and run by the community who will control the tariff and return 50% of profit to the community. They have plans to add further chargers in the future.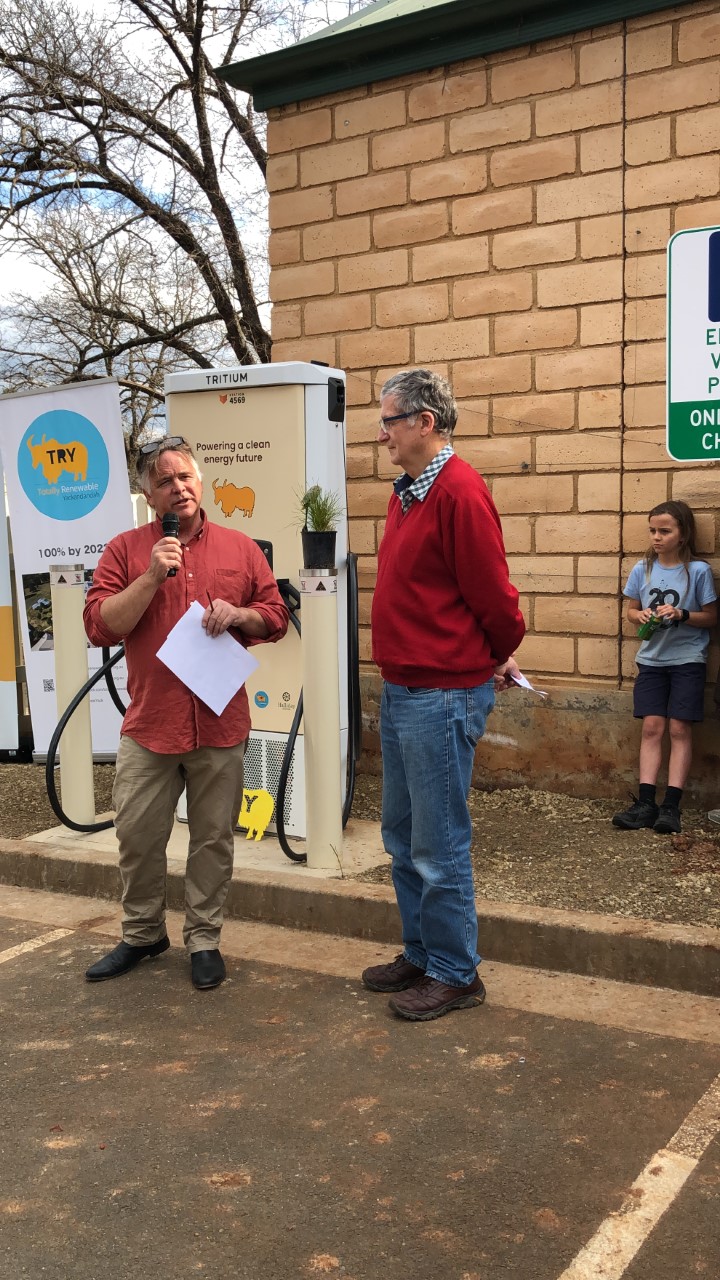 Paul Fallon and TRY president Matthew Charles-Jones
Vic Branch Committee Paul Fallon and his wife Ros attended the launch on the 28th August to represent the Vic Branch and congratulate the groups and individuals involved in a job well done. Hopefully other towns can follow their example.
Wangaratta member Phil Dwyer and his wife Liz also attended the launch.
Vic Branch Letter of Support here
History and Charger Info here
---
July Event Report
AEVA Vic Branch Lunch at RACV Healesville Sunday 24th July 2022
14 people for lunch
Travelled from various eastern suburbs in Melbourne, Werribee, South Gippsland, Euroa, Lancefield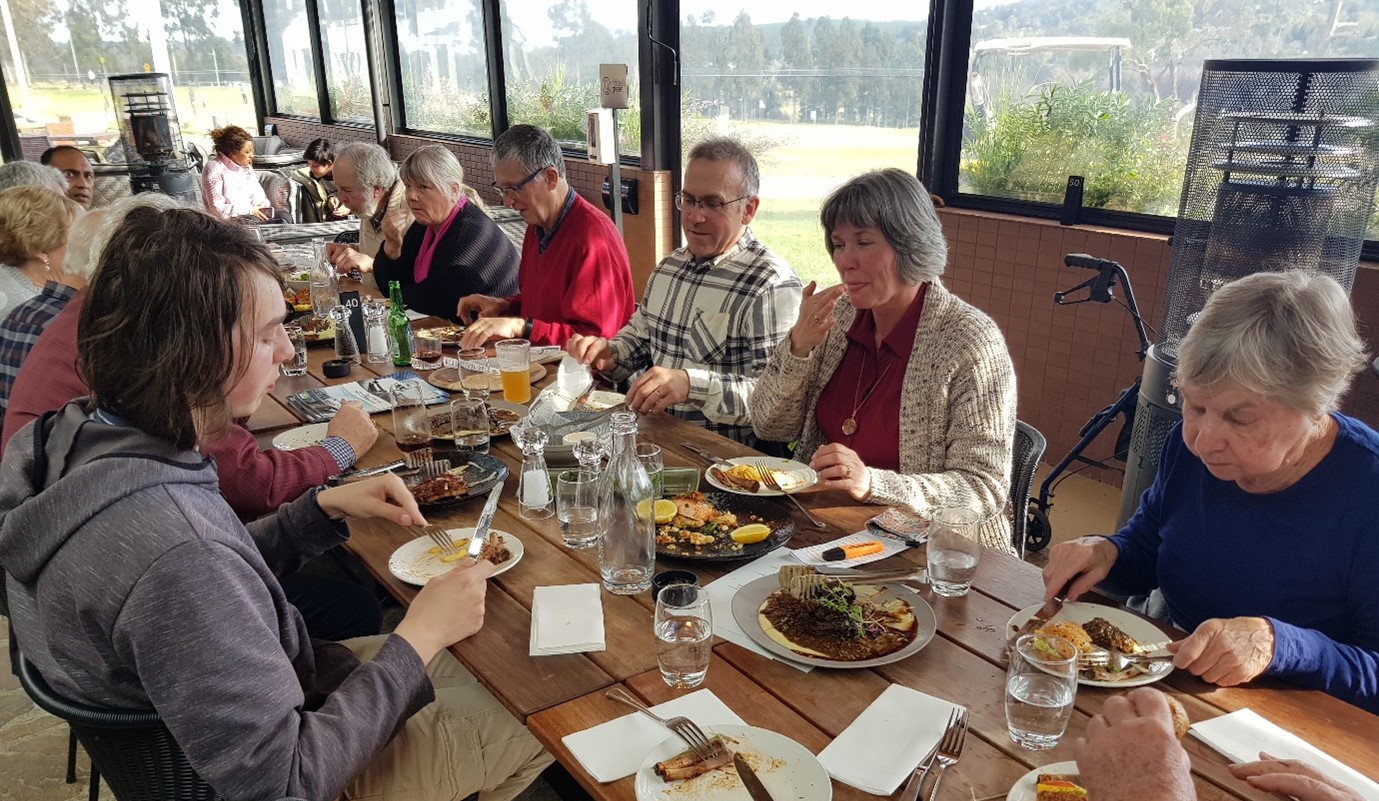 After lunch talk from David Potter on 'The Trials and Tribulations of Importing EVs into Australia'
---
June Event Report
Electric Picnic at Metec
Below are a couple of photos from the Electric Picnic which went well Saturday 18th June with 17 cars in the Show and Shine and a total of 46 attendees. We even managed some test rides - thanks Brendan. Highlights were definitely the Aurora Solar Car and test rides in the Polestar.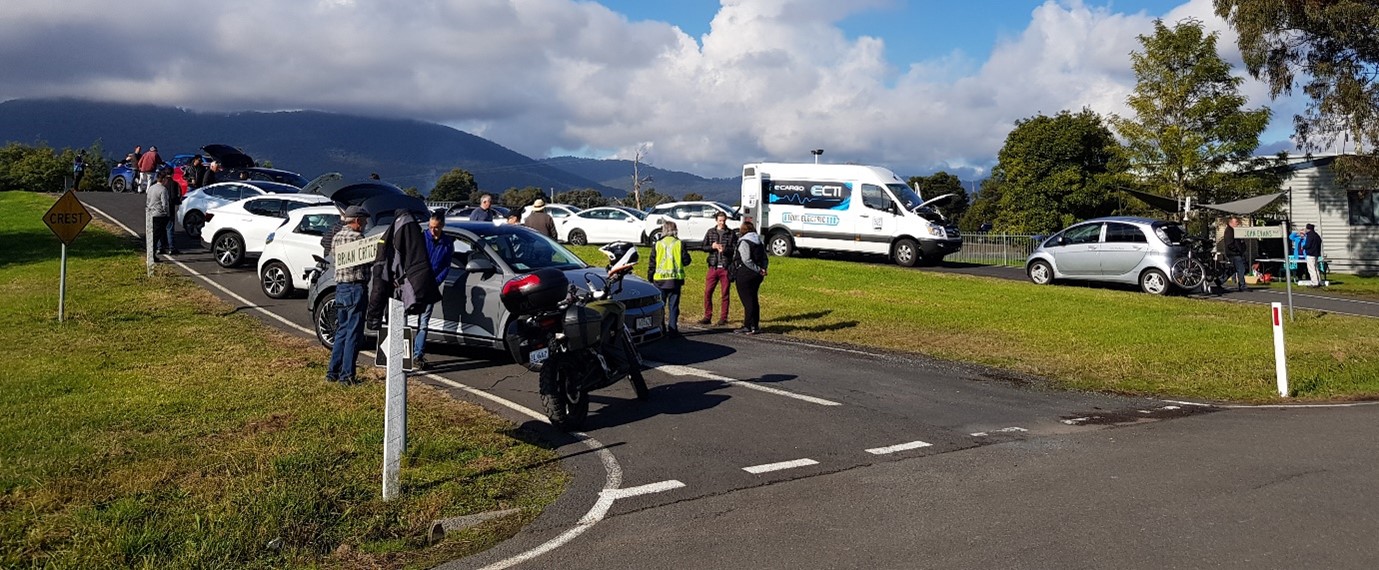 Show and Shine