Revcharge Australia Pty Ltd

Revcharge is an end-to-end EV charging service provider. We take the stress and guesswork out of not only finding an EV charger that meets your needs, but that too of organising a trained technician to install and activate your system. Every EV charger on offer has been carefully evaluated for its performance and features by our specialised team.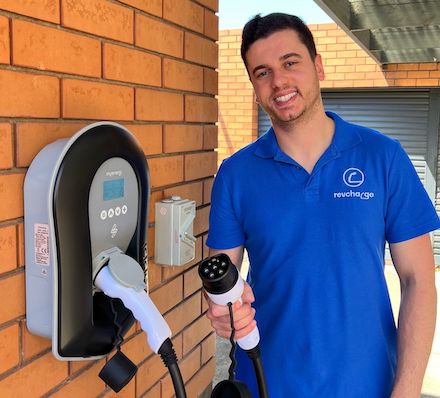 Our goal is to save you time and money, while ensuring a quality install that will last you for years to come. All you have to do is answer some quick questions about your home and electric car and send us photos of your switchboard and preferred charger location. We'll take care of the rest!
revcharge is as equally passionate about simplifying the process of purchasing and installing an EV charger as it is about contributing to a sustainable future for our planet. We are committed to reducing CO2 emissions across Australian households by supporting the uptake of EV vehicles nationally.
Not only are EVs more environmentally friendly due their greatly reduced CO2 output and energy efficient lithium-ion batteries, but they also have the prospect of being operated from renewable energy sources such as solar. In fact, homes that are fitted with solar panels have the potential to run their EVs completely independent of the grid, utilising 100% green energy!

Get a fixed quote here: https://www.revcharge.com.au/request-a-quote
Contact:
Dmitri Dalla-Riva
PO Box 94, KINGSBURY
Melbourne ,VIC 3083
Australia
(037) 042-1198
revcharge.com.au